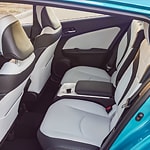 The newest Prius, made exclusively by Toyota, is one of the most innovative and popular compact hybrids found on roadways today. Part of its popularity stems from its conveniently designed interior.
The interior of this hybrid actually offers plenty of cargo space. It has a hatchback that you can easily lift up and down to access the cargo area. When the back row of seating is up, you get a reasonable amount of space for groceries or items like backpacks. However, when the back row of seats is laid down, the cargo space goes up to more than 65 cubic feet of area.
The new Prius also a back row of seating that is a 60/40 split-fold. You can choose what portion to lay back to get more cargo space. You can also leave part of the seat up to accommodate an additional passenger in the back row of seating.