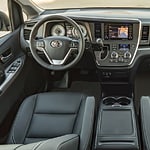 Comfort is among the most important things that a person can look for in a vehicle. Those who drive a lot understand the importance of remaining comfortable during those long road trips. It is an essential part of purchasing any kind of vehicle.
The Toyota Sienna is a vehicle that packs a lot of comfort into it quite easily. It seats a lot of passengers all at once, and it can do all of that while keeping each individual passenger quite comfortable. Never again do you have to decide who can go on a certain trip. Everyone is welcomed to come along because they can all fit in this vehicle.
Even with all of that seating, the Toyota Sienna still has a lot of cargo space as well. There are 150 cubic feet of storage space that make for a very impressive set of features on this vehicle. Check it out for yourself.